Burner Service
Prompt Payment Discount • Prepaid Oil Programs • Budget Plans • 24 Hour Burner Service
You never know when a failure in your homes heating system will occur. That's why our burner service technicians are available 24 hours a day 7 days a week for our current oil customers. Our service is prompt and professional. To help avoid the unexpected check out our annual service contracts.
Service Contracts
Service Plan 1
Annual cleaning and burner tune-up for current customers only.
Vacuum and cleaning of boiler, furnace and smoke pipe (to base of chimney)
Clean, lubricate and adjust burner, replace nozzle, filters and pump strainer.
Test and check all burner safety controls and ignition system.
Test fire and do efficiency check to maximize operating efficiency of unit.
---
$199.95
---
Service Plan 2
Annual cleaning and burner tune-up, all burner and service calls and the following parts replacement for 1 year. To qualify you must be an automatic oil customer or purchase a pre-buy contract for oil.
Free Emergency Service Calls
All Parts covered including: Aquastat, Nozzle, Fan Motor, Electrodes, Nose Cone, Limit Controls, Burner Motor, Draft Regulator, Stack Relay, Pressuretrol, Fuel Pump, Blower Belt, Transformer, Standard Thermostat, Circulator (motor only), Circulator Coupling, Cadcell, Pump Coupling, Combustion Chamber, Fireomatic Valves, Fuses, Primary Control, Zone Valve Power, Head (1 only).
---
$299.95
---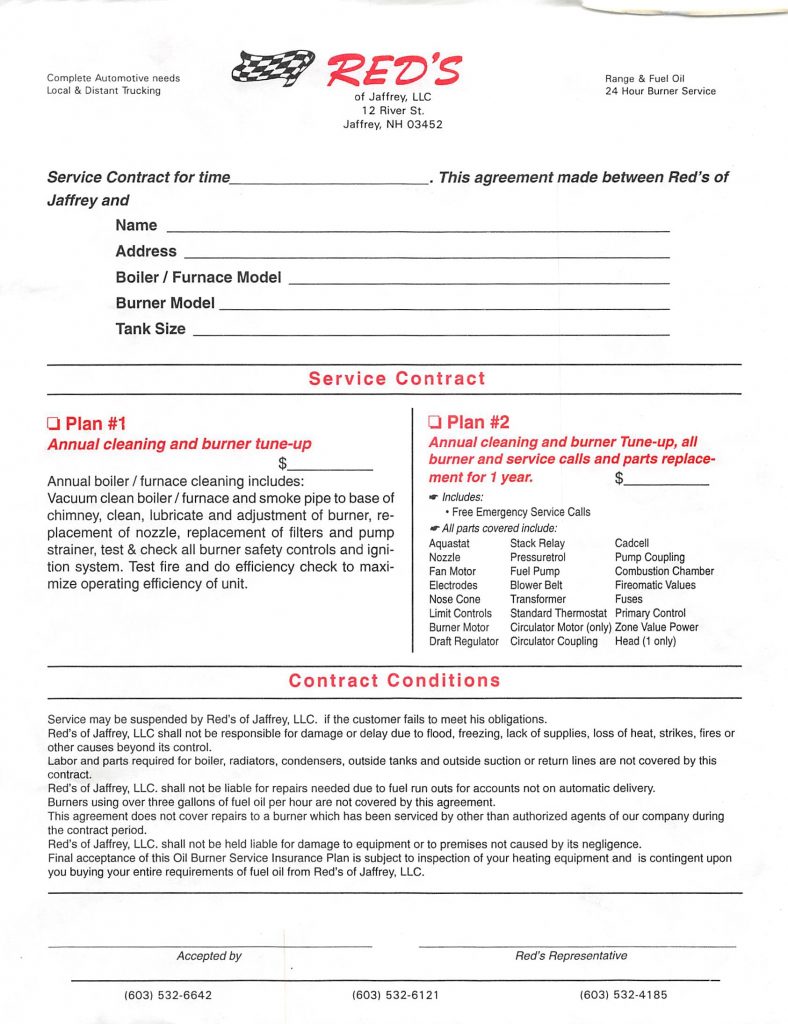 ---